C'est une petite boutique facile de passer à côté sans regarder si ça ne serait pas pour toutes ces couvertures de livres interessantes dans la vitrine...
It is a small shop easy to pass by without looking if it was not for all those interesting bookcovers in the window...
La reliure des livres est un métier rare et Monsieur Jean-Marc Coiffard l'a appris de son père.
Bookbinding is a rare craft and Mr Jean -Marc Coiffard has learned it from his father.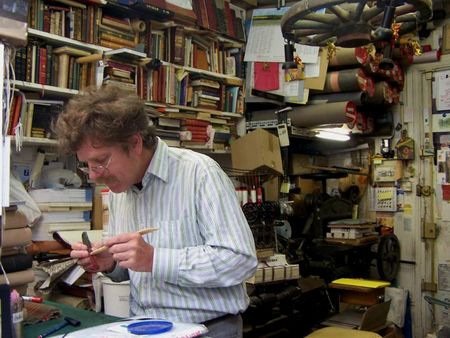 Il exerce son métier depuis 40 ans et sa boutique dans la rue de Moines est ouverte depuis 30 ans.
He is practising his craft since 40 years and and his shop in the rue des Moines is open since thirty years.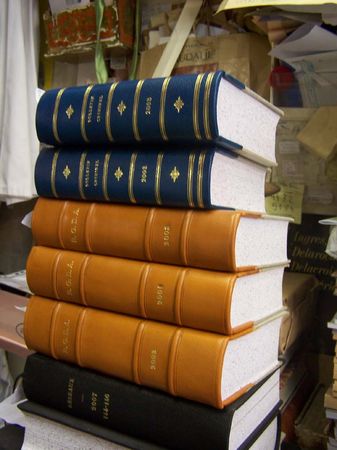 Les machines avec lesquelles il travaille sont certainement plus vieilles que cela comme cette 'machine à coudre' les reliures....
The machines he is working with are certainly older than that like this 'sewing machine' for binding books...

***

...ou bien cette presse en bois.....
...or this wooden press....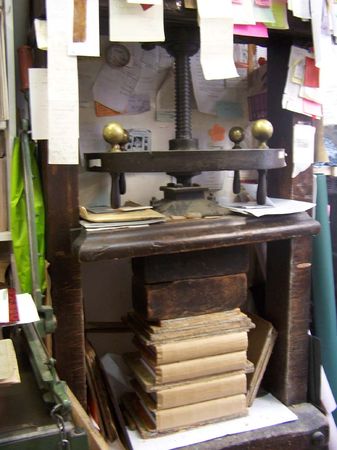 ...il y a du travail en progrès sur la table ....
...there is work in progress on the table...
...et le décor est d'une poèsie un peu désuète avec cette vieille roue de chariot de pompier sous le plafond ornée des petites anges...
...and the decor has a kind of old-world poetry with this old fire man's cart wheel adorned by little angels ....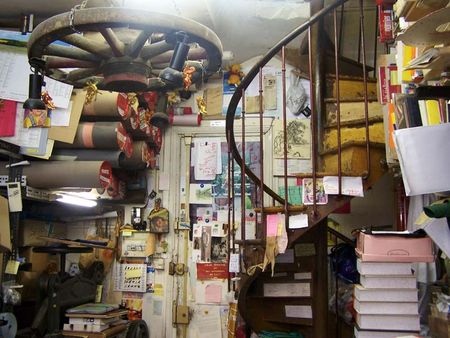 ...juste derrière l'escalier qui monte en spirale on peut voir des photos de Monsieur Coiffard senior...
....just behind the spiraling staircase we can see photos of Mr. Coiffard senior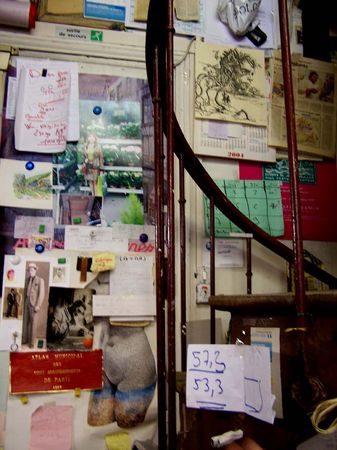 Pour plus d'info et des photos excellents du processus de travail visitez son site
www.artisanrelieur.com
For more information...in French..and excellente photos of the working process visite his site
www.artisanrelieur.com
à bientôt
see you soon