Apres plus d'un mois a Pushkar je passais deux jours a Delhi.Un matin un grande festival Sikh commencait avec la preparation des enormes quantites de nourriture a distribuer a travers Delhi.Il y avait des stands le longue des rues avec des enormes pots de riz et des legumes .En voyant ces enormes quantites dans mon quartier je suppose en toute Delhi ils ont du distribuer des tonnes de nourriture et de boissons,offerte uniquement par la communite Sikh.C'etait emouvant de voir cette generosite et meme les enfants de rue avaient leurs petits estomacs rempli pour une fois.Bien sure il y avait aussi pleine des parades partout mais j'ai pris que quelques photos pres d'ou j'habite a Delhi.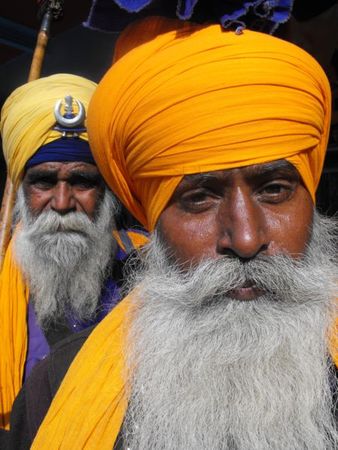 After more than one month in Pushkar I spent two days in Delhi.One morning a great Sikh festival started with the preparation of huge quantities of food to be distributed everywhere in Delhi.There was stands along the street with huge vats full of rice nad vegetables.Seeing these enorme quantities in my neighbourhood I suppose they must have distributed countless tons of food all over Delhi,offered entirely by the Sikh community.It was touching to see this generosity and even the street children had their stomachs full for once.Of course there were also plenty of parades everywhere but I only took a few photos near where I live in Delhi.
Pour plus des photos de cet evenement et d'autres endroits que j'ai visiter en Inde merci d'aller voir mon page chez flickr.
For more photos of this event and many other places I visited in India please go to my flickr page .
See you soon
a bientot